Founded in 1977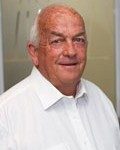 With over 45 years experience in the banking and finance industries, Leigh established QPF in 1977 after lengthy stints with Custom Credit, CBC and AGC. Recognising the value of good service coupled with strong relationships, Leigh (and his wife Judy) built QPF from the ground up.
Through our commitment to these core values the business is now recognised as one of the largest privately owned brokerage houses in Australia. Leigh remains a shareholder of QPF with his experience being an invaluable asset to the business.
The company is now managed by Leigh and Judy's three sons – Andrew, Matt and Mark.
1977

QPF Finance Group established in Brisbane

1995

Gold Coast office established

2011

Toowoomba office established

2011

Wide Bay & Cairns offices established

2012

QPF Property Finance Division launched

2015

Allied Finance (WA) Acquisition

QPF purchased Allied Finance (WA) - Perth based Equipment Finance and Mortgage Brokers.

2016

COG Limited (Consolidated Operations Group)

QPF Finance Group finalised merger with COG Limited.

2017

DLV Finance Acquisition

QPF purchased 50% of DLV Finance - Rockhampton based Equipment Finance and Mortgage Brokers.

2018

QPF Insurance Services division launched